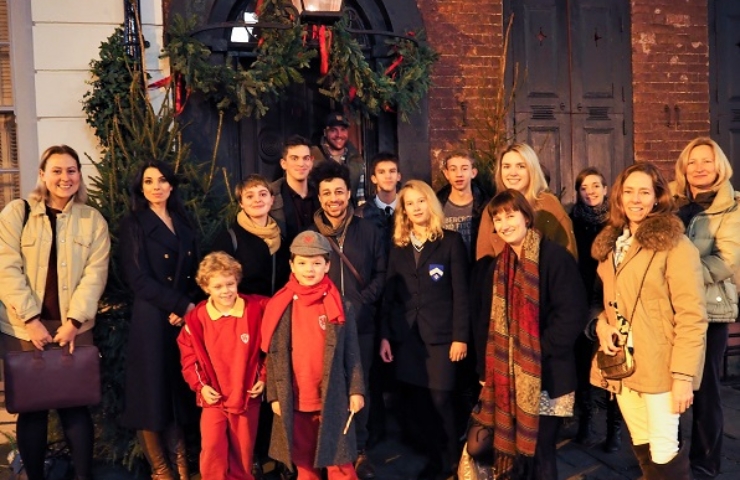 Winterwood Christmas Trip
At Winterwood, one of our main aims is to always go above and beyond expectations. Yes, we get students through exams, and we're exceptionally good at it, but every lesson our tutors teach aims to go far beyond this. To inspire students, to innovate, and to spark their imaginations. We love working with students for a number of years, taking them all the way through their academic lives, but if we're not able to do this then we still want to make a lasting difference. Our Winterwood trips are one way that we do this.
Earlier this week, we took a group of tutors and students to Dennis Severs' House in Spitalfields. Not everyone has heard of this place as they don't advertise, but it really is a hidden gem. A cross between a museum and immersive theatre, there are no ropes or signs, and the house itself is the theatre rather than there being any actors. It is designed as a sensory experience, with sounds and smells in every room to help transport visitors into the past. To enter the front door is to pass through a frame into a painting, and the game is that you interrupt a family of silk-weavers named Jervis, who although often heard seem always to be just out of sight. Dennis Severs decorated the whole building as if a family of Huguenot weavers lived in it in the 18th century, and then he actually moved in and gave tours to the public when he felt like it. It is entirely lit by candlelight and heated by open fires, and the incredible staff have carried on his work posthumously.
Our students ranged in age from 6 to 14, and explored in small groups accompanied by tutors who helped to guide them through the house. The youngest students were particularly affected, and it was very exciting to greet them when they exited the house. They seemed a little dazed by it all, and were completely surprised by the environment and experience. They struggled a little to articulate straight away exactly why they had enjoyed it so much, referring to disparate objects, smells and rooms. This is exactly what I was hoping for. To provide them with an experience that was new, and strange, and confusing – something that would make them think and would inspire them.
Our older students have had more training in events like this, as we often take them to art galleries and museums, and use these environments to inspire on-site lessons. They were a little more analytical in their approach, and it was interesting to watch their minds working as they linked objects together to build up the story. It was nice to see students from all different schools catching up as well, as several former students of ours attended who have now gone on to Westminster, St Paul's, City etc. Many were excited to see their former tutors again, but also to interact with a whole new lot of Winterwood tutors who they hadn't met them before. Our tutors are an eclectic bunch, with a range of research interests and creative or academic vocations they pursue alongside tutoring, and they are all thoughtful, charismatic and interesting – they're a big hit with students.
To all of us at Winterwood, this kind of education is incredibly important. Children learn in different ways, and gain life-changing inspiration from all sorts of experiences. Even those who are naturally adept at passing exams and rote learning, are not necessarily going to be able to apply those skills outside of academia. Even at university, independent thought and initiative are encouraged; essays that reflect new ideas and a different way of thinking are awarded higher marks. Our student trips are a way of encouraging this.